You may also meet the following trouble: every year you may need to take business jets for many times at a very high price, and may fail to book an aircraft in peak season.
However, the price is too high if you want to buy one, and a private aircraft seems too wasteful.
When in such a dilemma of flight demands between aircraft charter and aircraft procurement, what is your wisest choice?
"Share the infinite sky and harvest a wonderful journey together" - Deer Jet always thinks before the customer and develops the fractional ownership/shared right to use products, to perfectly meet the demands of customers with the flight hour between 100 and 300.
Fractional ownership: Several customers purchase one aircraft or more together, host in Deer Jet and share the capacity with the fleet of Deer Jet. The payment of the aircraft and maintenance cost shall be shared by all parties. 
Take G450 aircraft type as an example
The annual flight time of G450 is limited to 500 hours. If someone subscribes one fifth of the right to use, then he will have an annual fight time of 100 hours. The actual operating cost of the aircraft includes two parts: fixed rent and variable cost. The fixed rent shall be paid in proportion and the variable cost shall be paid according to the flight hour to the variable cost.
Supplementary services
When customers that share one aircraft have conflict in flight plans, Deer Jet will implement the flight plan for the customer who applies the flight first and sends the confirmation sheet; also, Deer Jet will provide other supplementary projects for the other customer who has demands but no right to use.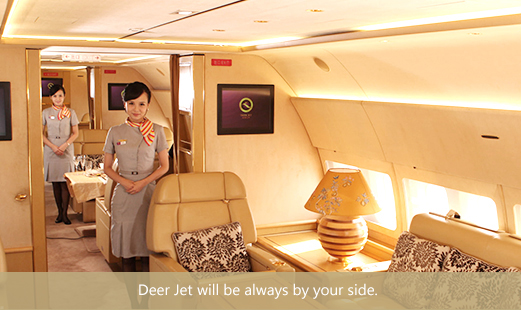 Product description
The aircraft types of DeerJet Time Share developed by Deer Jet are G550\G450. The aircraft can be leased by a single organization to provide to other customers for use or can be shared by two or three customers.
The DeerJet Time Leasing has a fixed rent and the subsequent operating cost will be determined according to the flight demands of customers.
Target customers
Customers with stable business trip demands (mainly are middle and short flights) between 50 and 300 hours and have high requirements on timeliness. 22